This photo
We couldn't not include this photo. It's the iconic Ricardo Villaobos photo, depicting Ricardo Villalobos in full Riccy V mode. Without wanting to glorify the dangerous state he seems to be in here, the levels Ricardo gets himself to while still managing to kill it in clubs is somewhat impressive. If you're a promoter looking to book him, just make sure there's plenty of water on that rider.
His face when rejecting a can of Red Bull
We could watch this clip for hours. The range of facial expressions on display makes us think that if, Heaven forbid, Ricardo ever does hang up his turntables, a career in Hollywood could be a viable alternative. Basically it's someone handing Ricardo a can of Red Bull which he graciously turns down in a flurry of pouting air kisses, then after this polite refusal has taken place he pulls a sly face of pure disgust. The combination of outward gratitude and the deep inward revulsion that slips out is classic Ricardo. He's not one to keep his body movements reserved. See this Green & Blue video interview where he starts sat upright and gradually slides down into delivering his answers while lying flat out with his legs spread for another example. And watch the rejection on loop forever below.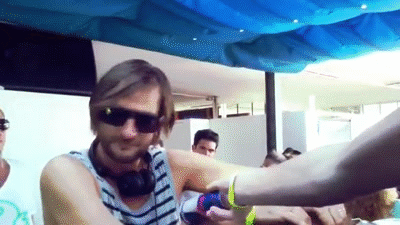 Next Page »